Package included
1X Wallpaper(Non-self-adhesive)
Features
1.Model: 86800
2.Upgrade material, Wear-resistant, Breathable, Environmental protection,Durable
3.Waterproof,Moisture-Proof,Mould-Proof,Smoke-Proof,Soundproof,Sound-Absorbing,Heat Insulation,Anti-static
5.Usage: Living room, Bedding room, Study, Kids' room, TV Background.
6.Material:Non-woven
7.Size: 0.53 x 10m
8. Color: White
Paving procedures:
1. The wall has been handled well, and let it dry.
2. to draw a vertical line from the ceiling to the floor, this line as the first piece of wallpaper paste edges.
3. According to a desired size, cut a good wallpaper, and turn the cut wallpaper in order, and then compare the color dark to light carefully then the cut wallpaper should be arranged from dark to light or from shallow to deep, marked with serial number on the back. 
4. To brush glue evenly over the back of the wallpaper, you must brush the edge of the wallpaper, we can not stick to the front of wallpaper, to ensure a clean surface, avoid the risk of wrinkles. Over 3-5 minutes, then wallpaper soaked, the wallpaper can be pasted on the wall. Wallpaper paste to the wall, it should be removed air bubbles, wrinkles and excess glue carefully, the method is to use hard scrubbing brush, brush from the middle to both sides. When glue Stick on the positive of wallpaper used cloth to wipe it immediately
5. When the first volume finished pasted, If there are color difference and issues, please stop in time, in order to avoid too much damage.
6. Wallpaper should be affixed in a dry wall, the front of the wallpaper can not wipe with a damp cloth, to avoid fade after wet.
Key Features
Color: White
Size: 0.53 x 10m
Material:Non-woven
Usage: Living room, Bedding room
Waterproof,Moisture-Proof,Mould-Proof
Smoke-Proof,Soundproof
Heat Insulation,Anti-static
and high quality
What's in the box
1X Wallpaper(Non-self-adhesive)
Specifications
SKU

: GE779HL12VE0QNAFAMZ

Area of Use

: Living Room|Bedroom|Home Office|Entry & Hallway

Color

: Multi

Model

: Fly Cow

Product Line

: Luch Fashion Stores

Size (L x W x H cm)

: 53 x 9.2 x 9.2

Weight (kg)

: 1.23
Product Reviews (0)
This product has no reviews yet.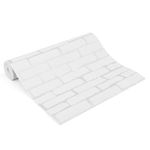 10M Stone Style 3D Embossed Textured Non-woven Home Wallpaper Wall Paper Rolls White